Ginger Pork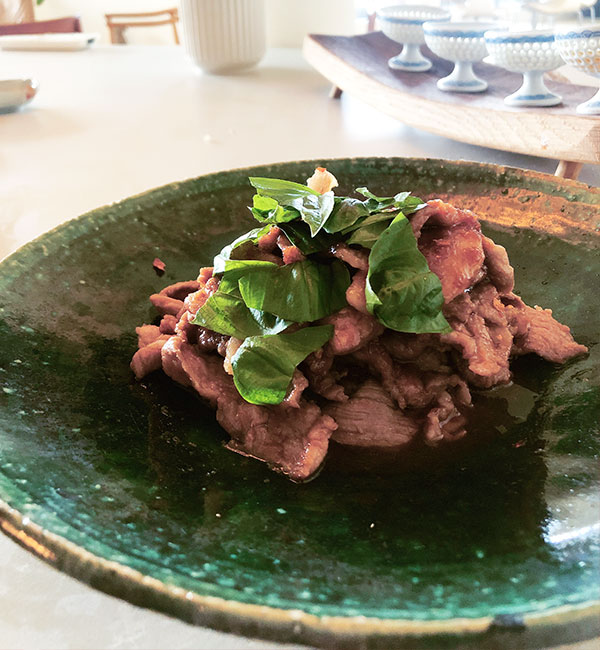 Ingredients(Serves 4)
pork, any cut

1 1/4 lb (570g)
<Ginger sauce>
grated ginger

4 tablespoons

sugar

4 tablespoons

sake (dry vermouth or medium sweet sherry)

4 tablespoons

soy sauce

4 tablespoons

ketchup

1 tablespoon

salt

1/2 teaspoon

chili pepper

1/2 teaspoon

sesame oil

2 tablespoons
Instructions
Slice the pork thinly. Wrap the pork in plastic wrap and freeze the meat for 1 to 2 hours. If the meat is firm enough, slice the meat against the grain to leave the tenderness. Cut the pork into slices about 1/8 inch (5 mm) thick, and gently pound with meat mallet to tenderize. Meat may tear apart, but the tenderized meat still tastes good.
Make the sauce: Mix the grated ginger, sugar, sake, soy sauce, ketchup. Add a pinch of salt, chili pepper, add the pork, and toss to coat.
Oil a frying pan with the sesame oil and heat over high heat. Turn the heat to medium. Add the sliced pork in a single layer, making sure it doesn't overlap, and cook. When the surface changes color, reduce heat to low to keep the pork juicy.
Pile the green leaves in the center of a serving dish and place the pork on top.
Heat the remaining sauce to cook it down over medium heat for 2 minutes.
Pour the sauce over top of the pork and serve.