Beef Bowl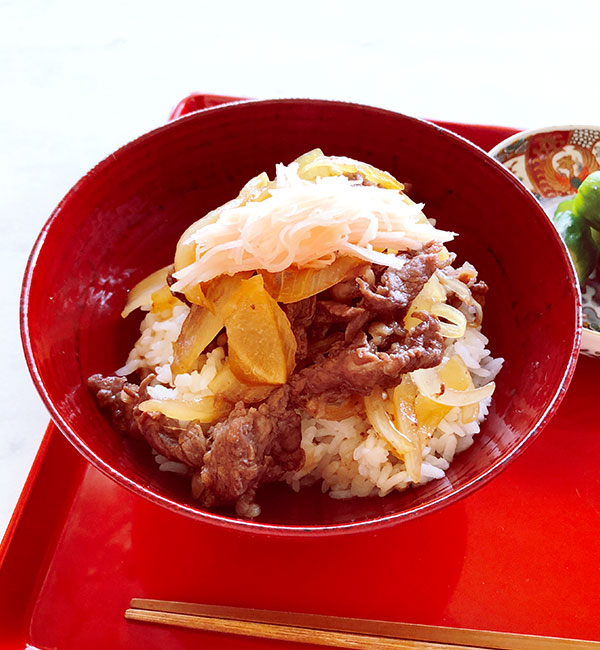 Ingredients(Serves 4)
American beef chuck or shoulder

1 pound (450 grams)

Japanese short-grain rice

2 cups (450 grams)

water (to cook both rice and meat)

3 1/2 cups (820 milliliters)

naganegi onion or yellow onion

1

ginger sliced

1 piece

sake

1/3 cup (80 milliliters)

mirin

1/3 cup (80 milliliters)

soy sauce

1/3 cup (80 milliliters)

sugar

3 tablespoons

poached or soft-boiled eggs

4

Shredded pickled ginger to taste
Instructions
Wrap the beef in plastic wrap and freeze for 1 to 2 hours. Slice the meat against the grain into slices about 1/8 inch (5 millimeters) thick, and pound each slice to tenderize.
Cook the rice in a scant 2 1/2 cups (580 milliliters) water.
Cut the onion diagonally into 1/2-inch (1.5-centimeter) slices. Peel the ginger and slice thinly. Cut the thinly sliced beef into bite-sized pieces.
Put the onion, ginger, and beef in a large pot and add the sake, mirin, soy sauce, sugar, and remaining 1 cup (240 milliliters) water. Stir to combine, bring to a boil, then reduce the heat to low and simmer for 7 minutes.
Place the rice in a bowl and top with the simmered beef and onion. Top each serving with an egg and some shredded pickled ginger.
Note
If you cannot find premade shredded pickled ginger, mix one part sushi vinegar to one part rice vinegar, then add julienned ginger and let it sit for 30 minutes to pickle.